22.01.2015
Eye contour cream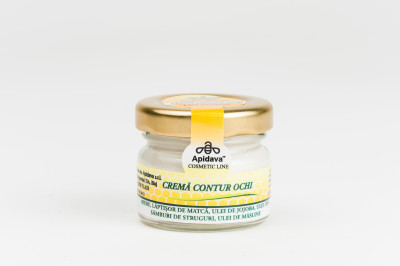 Ambalaj: 30ml
Detalii:
with honey, royal jelly, jojoba oil, grape seeds oil, E vitamin
Eye contour cream acts as an efficient treatment against expression wrinkles and deep wrinkles.
Essential oil complex: Jojoba Oil, Grape Seeds Oil and Olive Oil nourish face skin in depth.
Bee honey is a natural very efficient ingredient for keeping face skin elasticity, and E Vitamin – prevents bad effects of free radicals, those that degrade derma and lead to early skin aging. Royal jelly is well known for being the strongest natural regenerator at cell level, accelerates blood circulation in skin, retains water in tissues, giving elasticity and protecting skin against early wrinkles.