21.01.2015
MAKEUP REMOVING MILK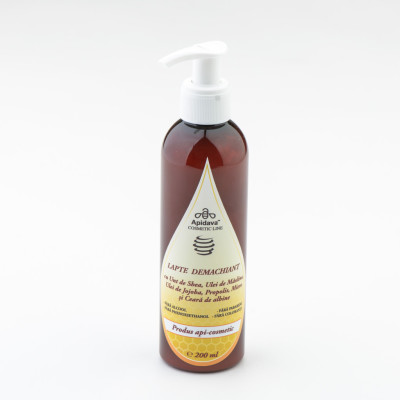 Ambalaj: Bottle 200ml
Detalii:
with Shea Butter, Olive Oil, Jojoba Oil, Propolis, Honey and Bee Wax
Effects:
Cleans and protects epidermis
Revitalizes and refreshes skin
Hydrates skin, stimulates blood circulation
Shea Butter is rich in Vitamin A,E and, as well as a series of other vitamin and mineral. Hydrating elements from shea butter are the same as those produced by sebum glands in skin. Jojoba Oil has antioxidant properties and contains myristic acid, which has anti-inflammatory action and is rapidly absorbed by skin being an excellent emollient for dry skin.
Use: Apply with aid of tampon on face, neck and neck opening massaging gently, morning and evening, then remove. After makeup removing preferably use TONIC PURIFYING LOTION of same range.