MOUTH SPRAY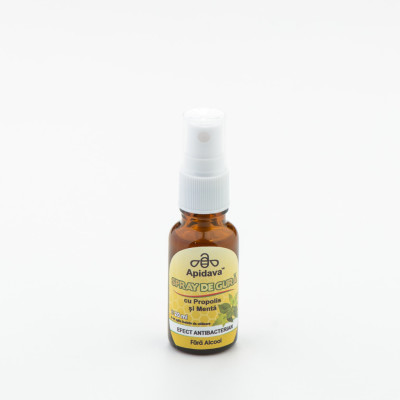 Ambalaj: 20ml Bottle
Detalii: Alcohol, paraben, perfume free
With Propolis, Thyme Extract and Acacia Extract, Mint Oil and Eucalyptus Oil
Antibacterial spray with propolis – with breath refreshment effect, alcohol free, sugar free, perfume free, and preservatives free based on plant extracts is recommended as disinfectant, healing, mouth odor.
Indications: In daily oral hygiene, stomatitis, gingivitis, in local treatment of infections limited to mouth cavity mucus or orofaringitis.
Eliminates ugly smelling microparticles through dissolution in mouth, and helps destroy bad bacteria and microorganisms, having beneficent action on respiratory system as well thanks to essential oils of Mint and Eucalyptus.