Face cream for sensitive skin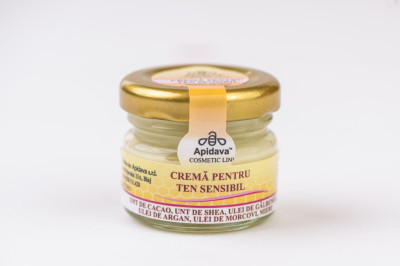 Ambalaj: 30ml
Detalii: with CACAO butter, ARGAN OIL, Carrot Oil, CALENDULA Oil, essential LAVENDER Oil
Mineral oil free, paraben free, parfume free
Face cream for sensitive skin, thanks to its basic composition, without Mineral oil it suits even the most problematic face skin types, causes no irritations, this simple formula with special enrichment of argan oil, calendula and carrot in soya oil has a strong protection effect and increases skin resistance against irritations.
Argan oil:- contributes to wrinkle attenuation and skin elasticity;- fixes sebum release for oily face skin;- useful in treating dry skin;
capacity to neutralize free radicals with important role in treating eczemas, acnea and psoriazis;
Cocoa butter: Rich in E vitamins, polifenols, ferulic acid, flavonoids, cocoa butter is a strong antioxidant, strong remedy against free radicals; stimulates collagen production, fights against skin aging and maintains skin tissue elasticity and firmness.
Essential carrot oil (Daucus carota) : is mainly used for face skin and is appreciated for its anti-wrinkle and regenerating properties. Protects skin against UV rays.
Calendula oil has a healing, anti-inflammatory, calming, antibacterial, antifungal effect.
Essential oil of fine lavender (Lavandula angustifolia) True source of beauty for face skin, and also for hair and body! This essential oil helps mixed face skin balance, regenerates and revigorates skin.