05.02.2015
"Mother and Child" Soap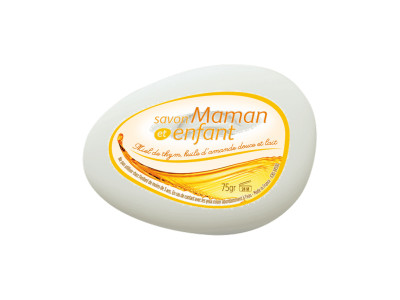 Ambalaj: 75g
Detalii:
75 g
Active ingredients:
GLYCERINE – it is present in all natural lipids (fats), whether animal or vegetable.Glycerin is a humectant and extremely hygroscopic, meaning it readily absorbs water from other sources. So, in part, glycerin works because of its ability to attract water from the environment and from the lower layers of skin (dermis) increasing the amount of water in the surface layers of skin. Another aspect of glycerin's benefit is that it is a skin-identical ingredient, meaning it is a substance found naturally in skin. In that respect it is one of the many substances in skin that help maintain the outer barrier and prevent dryness or scaling
PRUNUS AMYGDALUS DULCIS(SWEET ALMOND) OIL – is extracted from the fruit of the almond tree, rich in nutrients such as Vitamin A, B1, B2, B6 and extremely rich in vitamin E. Good moisturizer for all skin types, simply because it is easily absorbed. One of the most important sweet almond oil benefits is that for dry and chapped skin. Using sweet almond oil will surely make your skin soft and supple. If your skin is itchy or inflamed, you could apply this oil to ease your discomfort.
TALC – "talcum powder". This powder has the ability to absorb moisture, absorb oils, absorb odor, serve as a lubricant and produce an astringent effect with human skin. These properties make talcum powder an important ingredient in many baby powders, foot powders, first aid powders and a variety of cosmetics.
MIEL(HONEY) – It enriches the skin with biologically active substances –making it soft and smooth.
BUTYROSPERMUM PARKII(SHEA) BUTTER EXTRACT – contains fatty substances, vitamin E and F, grease and moisturising skin, leaving it smooth and soft. Normalizes epidermal keratinisation process, reduces itching, is used in allergies, psoriasis and dermatozie.
LAC(MILK)– Moisturizes, smoothes, softens the baby skin. A real benefaction for sensitive to harmful external factors skin. Milk is rich in nutrients and vitamins and has been a favored ingredient in skin care for centuries. In fact, Cleopatra, the legendary queen of Egypt and fashion plate, was known to take milk baths as a means to keep her skin supple, smooth and radiant. The beautifying enzyme has not lost any steam in the beauty world since then and is commonly employed for its various benefits to the skin.