En-Gros – Honey in drums
Types of packing:
300 kg – special drums for food industry. We export different types of honey in drums:
– multi-flower honey,
– linden honey,
– acacia honey,
– sunflower honey,
– rape honey,etc.
Plastic packing:
25 kg, 5 kg, 1 kg – plastic tails for sweets producers (or industrial usage)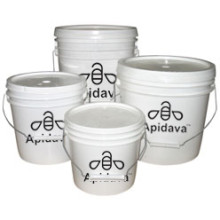 We export honey to clients from more that 15 countries:
Italy, England, Netherlands, Spain, Poland, Sweeden, France, Greece, Germany, Singapore, Austria, China, Japan, Kuwait, Israel, Canada.
We export 1.300 Tons of honey / year.
We process 85% conventional honey & 15% BIO honey
We deliver omogenised LOT of 20 tons / tank
We sell honey in drums: ACACIA HONEY, LINDEN HONEY, RAPE HONEY, SUNFLOWER HONEY, MULTIFLOWER HONEY.